So that leaves me with one question: Do you watch Scooby-Doo?
Scooby Doo, Where Are You?
You know, the (somewhat) cherished Hanna-Barbera cartoon featuring a totally not high group of mystery solving teens and their apparently magical talking dog? Yeah, I understand that the concept of Scooby-Doo was as ridiculous as every other Hanna-Barbera cartoon (i.e.
Jabberjaw
). They were silly, simple, at times convoluted, most times cheap, and I loved them.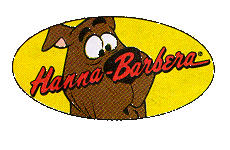 Warner Brothers too zany for ya? Try Hanna-Barbera.
The show was like the Haunted Mansion at Disney World, a safe scare-zone for kids who wanted a little spookiness in their Saturday morning lineup. Primary a mystery program, each episode would occur in some unnerving setting such as an old dark house or an abandoned amusement park while searching for lost gold or cursed treasures (or money. Lots of money). How is that creepy? Because the thief would usually be some kind of horror trope such as ghosts, monsters, aliens, robots, ghost pirates, zombies, voodoo priests, ghost knights, goblins, mummies, Aztec mummies, clown ghosts, cavemen(?), ghost spacemen, cotton candy ghouls, and the Creeper.
Forget it, close enough.
And the show really got interesting when actual classic horror characters from films began to show up like Dracula, Frankenstein's monster, the ghost of Mr. Hyde, Brackula, Jason Voorhees, Freddy Kruger, Michael Myers...you don't recall seeing those episodes with Jason or Freddy?
"The Lost Mysteries Collection" is, as it says above, a limited edition art book created to bring to life the mysterious that never happened, but if they did it would be awesome. A couple of months ago images began being shared on the web featuring modern day horror icons inserted into classic Scooby-Doo scenes.
The Case Of the Mysterious Ghost Face!
They seemed to match up perfectly with the original art and before you knew it they became viral. Blogs began reporting on them, horror fans started sharing them, and, in the ultimate expression of appreciation, the creators of many of these films began tweeting them.
\
So as you can see these will be a big collector piece once the initial run is finished.
I'm guessing the book will look like this. Just. Like. This.
So what will be featured with these lost mysteries? How about when the groovy gang met Freddy Kruger-
The Case Of The Springwood Slasher!
Or the time they visited Haddonfield to investigate the strange events in the old Myers place on Halloween-
The Spooky Shape Of Haddonfield!
Or how about when the Mystery Machine breaks down near an abandoned summer camp-
The Creepy Case of Camp Crystal Lake!
And we can't forget the classic meet ups the gang has with the likes of-
That's a lot of sass in one package.
They all can't be the creepiest capers.What kind of demented mind could conceive of such a demented tome?
Walt Disney Studios Home Entertainment
and
Universal Studios Orlando
. He's also worked for more genre friendly outlets such as
HorrorHound Magazine
and
Lionsgate Home Entertainment
.
Featured in HorrorHound Magazine
Travis has also been the owner and artist in residence at IBTrav Illustrations where he has created art for clients while also selling his own creations usually featuring mash-ups of popular culture.
It was when creating these creations that he stumbled on to something that really clicked with the horror community: Horror villains in Scooby-Doo. Why had no one thought about doing something like this before. It was ripe for a mash-up. Perfect almost. These two worlds meeting was amazing enough but the depth that Travis has gone to bring up more obscure films shows his immense fandom.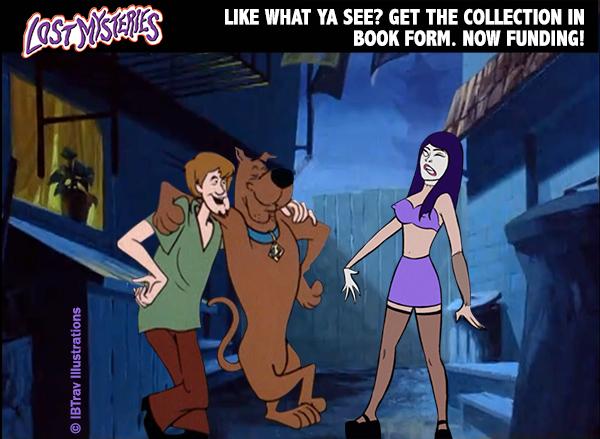 This Street Beat Is No Treat
Yeah...a 'Frankenhooker' reference. He went there.
When fans started asking Travis when he would sell his creations in his shop he was at first hesitant
Bloody Disgusting
.
Travis has also partnered with
Scares That Care
and has promised to donate all the proceeds once the original goal is met. .
In 1999 there was a massive Scooby-Doo 24-hour marathon that was based on 'The Blair Witch Project' called "The Scooby-Doo Project".
Scooby-Doo and the gang never were in any real danger, they were just costumed men in masks who wanted to scare people away, so there was never a true threat. In fact, Hanna-Babera originally conceived the show as an outlet for non-violent thrills unlike the superhero shows that were airing at the time. Without threats of violence one had to rely on suspense and mood, this is where Scooby-Doo found its voice.
By exercising the cartoon-like violence and playing up the atmosfear Hanna-Barbera, without realizing it, had implanted the seed of genre sensibility. It seems like a perfect match to combine the harder realm of horror with the lighter version. It's a nostalgic funhouse for both the kid and adult in us all.
The only problem with this nostalgic trip back to our childhood is that this throwback collection does not feature what was one of the truly lost pieces of Scooby-Doo memorabilia: The "Scooby-Doo Lost Mysteries Game" for the SEGA system.
While the game was fun it had to be pulled from shelves due to the graphic violence and a shocking amount of harsh language. Some things are just before it's time I guess.
-A copy of "The Lost Mysteries Collection" hardcover book! The bound, HQ printed collection of all Lost Mysteries in one, limited edition tome!