If you haven't read the article that preceded this one, it's here. Now onward.
Before we get into the review there's a little bit of history we need to get into. The history of the arcade light gun shooter.
"You mean you have to use your hands?"









Back in the good old times the arcade was the holy temple to youth. These pristine pleasure palaces were the places of dreams and one of the last pure parent-free zones. Really, arcades during this time were where we thought we could be who we REALLY were (but honestly were just what we thought we wanted to be. Savvy?). Arcades had their own rules, including who you were friends with. You would run in certain circles with their own customs and style who believed they "ran" that particular arcade. These were the friends you would have ONLY in the arcade and never invited over. This wasn't because they were bad asses or anything like that but because to invite them over would be to ruin the illusion you built of being anything other than a normal suburban kid. We needed to remain cool and mysterious within those neon walls (we were all Lucas from 'The Wizard'). Arcades were kinda like turfs for adolescent street gangs whose only rumbles occurred in
Street Fighter II
.
"You see what you get when you stay too long on The Simpsons"
We were tiny kings and kings were only as cool as their kingdom. Arcades were judged by the caliber of games they housed and, for me anyway, the one way to judge an arcade is by what kind of light gun shooter it had. Or if it had
Teenage Mutant Ninja Turtles: Turtles in Time
. Well, mostly
Turtles in Time
but shooters were important to.
There were plenty of great light gun games, from
House of the Dead
to
Lethal Enforcers,
that all had a shared vision of recreating the act of holding a fabricated weapon, pulling a trigger, and destroying a target. That all seems simple and fun but an interesting issue of morality could be raised when considering the nature of the targets in these games. Who, or what, you unloaded your virtual clip at was what made a gun game playable (and made parents fearful, but more on that later). The "cooler" shooters were the ones where you shot people, undead or otherwise. Personally I preferred blasting zombies over drug dealers but to each their own. The violence quota also raised a games notoriety and one of the most famous was a game called
Chiller
.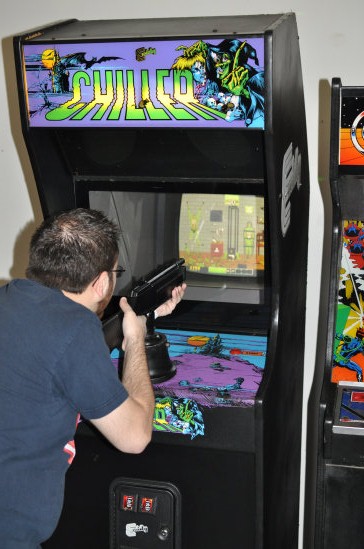 "No world, you put your hands up!"
Released in 1985, 'The Return of the Living Dead' was a landmark zombie film. It was the first to feature not only the fast moving-intelligent zombie, or the "O'Bannon Zombie" variety, but also to introduce the idea of zombies eating brains. It also goes further to explain a reasoning why they hunger for grey matter and make them somewhat sympathetic (as much as a raging horde can be).
WHAT!? THERE WAS A HOME PORT!
Could this be it, did I just stumble onto a legendary game that may or may not be real? I've heard of the other games so there was a shred of reliability. Not wanting to let this opportunity pass me by, knowing it would eat at me for perhaps the rest of my life, I took a chance and made an offer. I won't get into the amount I proposed but I'll just say it was substantial. What followed was a waiting game. Had I made a horrible mistake? What if it's all an elaborate ruse? When the box finally arrived I tore into and, to my great relief and joy, this was waiting for me.
I then proceeded to spend the following week playing this game all I can say...well...let's get into the review-
Chiller
eventually made it onto the NES and it was as violent as it was I can only imagine what this game must be like to have been pulled. As I stare at this game cover I attempt to remember the arcade game. Nothing. Why can't I recall any details of this arcade game? What was this game like? Did it follow the film? Any time you deal with nostalgia you run the risk of being disappointed. That's what makes it nostalgic. But this was ROTLD, how could it be bad? Then I see a small graphic on the cover that chills me to the bone.
There. Is. No. God.
LJN games. The scourge of all classic gamers. The rainbow of death. Like
The Monster Squad
before it, LJN had bought up the rights to make a NES version of
The Return of the Living Dead
arcade game. This does not bore well. Across the board LJN failed to understand how to properly transfer intellectual properties. Doubt my, go search out some of these other games. It is to weep. Still, I had to have faith. This game had zombies. You get to shoot zombies. No way to mess that up. I insert the game into my old NES, lock it into place, press the POWER button, and steel my nerves. No turning back now.
The Return of the Living Dead: Partytime
? Was it a attempt to make it unique from the arcade version? I don't know and it doesn't seem like it was ever suppose to be included with the game, like it was a last minute add before the marketing got started. Another mark of LJN quality.
It's at this point that I also got to mention the arcade version of the game again. When doing research for this article I was unable to find more then a couple images of the arcade version of this game. One image that I was able to find was the light gun for the arcade game.
Well that's left to your imagination because that's the last of the information given to you for this game. What follows are just shooting levels that go into other shooting levels without any transitions. No collecting artifacts. No bosses. All you do is shoot and rack up points. Simple pure carnage. I can see how this could be fun in an arcade setting but this home gaming, we needed more. Find the barrels. Save the girls. Call the government.
In that same vein, LJN did attempt to recreate a variety of the zombies from the film in several of the game scenes including the half-lady corpse...
As you can see in this screenshot I captured, the game begins in the Resurrection graveyard and we get right into the action. The rain starts falling and the zombie hands strat rising. If you fail to shoot the hands they eventually crawl out as full zombies. You can also get points by breaking beer bottles and shooting...severd heads? Why are there severed heads? Those weren't in ROTLD, were they?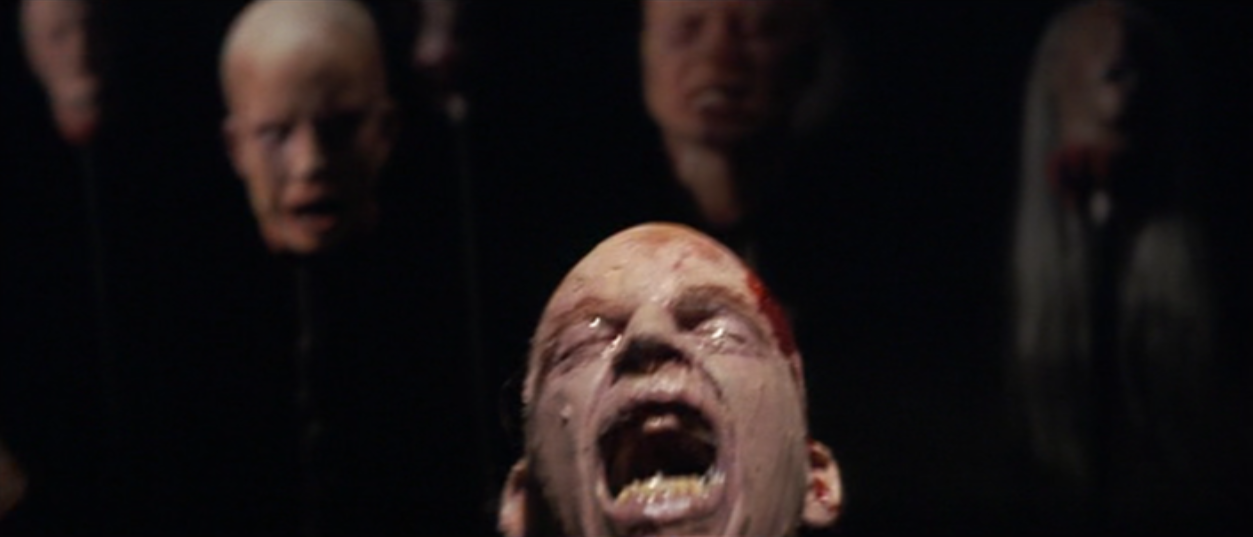 Unlike the important need for several heads in 'Ghostbuster II'
Looking back at the screenshot, I guess you notice what I was alluding to earlier. Yep, rising from muddy earth is zombiefied Trash, punk as hell and naked as...hell. In the film Trash, played by my 80's supercrush Linnea Quigley, spends a good amount of her screen time prancing (and dancing) around in her birthday suit. Well, her birthday suit and an added inarticulate crotch piece giving her the appearance of a barbie doll. The 1980's, am I right ladies? The makers of
The Return of the Living Dead: Partytime
choose to feature this important plot device in the game and create a decent amount of undead nudity, much in the same way
Chiller
did. The difference here is that while the nudity in
Chiller
was only available in the arcade the good folks at LJN decided to release a home port with boobs aplenty. It was bold, it was relevant to the story (one of the few times you can say that about nudity), and it's most likely why this game never saw the light of day.
I can only guess but I'm going to assume that
The Return of the Living Dead: Partytime
suffered the same fate as its arcade cousin: parental outrage. Now, the question becomes how the PTA found out about the nudity in a game that was never wide released. Usually when parent mobs form is in the aftermath of a (supposed) offense, like a killer Santa Claus film or
Breaking Bad
toys. You know, the things that truly threaten the children of America. Can't let kids play with a plastic Bryan Cranston least they grow up to sell blue meth in the future (mind you they would have to be a failed science teacher/cancer patient first).
I'm always mystified at what gets parents stirred up into a tizzy and apparently pixilated nudity was a straw too far. At the time video games had reached their zenith and, because of their popularity, they were beginning to be more closely scrutinized. Gone were the dangerous days of arcade games with no rules. This was the big time and they were being watched by our censorship police. I don't want to make this all about these imposed watchdogs that feel that we must be protected from entertainment, I just want to point out that what we are talking about is poorly rendered boobs. The late eighties saw the height of these morality squads and they have only grown as the years have gone on.
When media, of any kind, becomes part of the popular culture it loses its independence for the shake of notoriety. No longer does it belong to the few, it belongs to the zeitgeist. Heavy weighs the crown I suppose. The point is, LJN decided rather then deal with a public uprising simular to what Chiller experienced they instead choose to take a bath and dump all their copies of
The Return of the Living Dead: Partytime
.
And that's not exactly a bad thing. While it hits many notes of nostalgic fun it fails to deliver a exciting game experience. Playing the game I realized that this was probably also true of its arcade brother. Why else couldn't I remember how, after continued playing, boring the game is. I never thought I'd say this but I need more then just killing zombies in a game. I need story, I need plot. As a kid I probably didn't care so much about linear storytelling, but as an adult I can't overlook it. The game still has a level of absurdity that makes it worth checking out (also, naked zombies) but overall the game just left me kind of cold (like a naked zombie).
Due to the lack of story and repetitive nature I give this game a...
Return of the Living Dead: The Animated Series
, but that's for another time.
Till then...do you want to party?,